1. Arabic version
Very glad to see that knowledge can be spreaded to more places in the world!
LinkedIn: https://lnkd.in/gb-emkaz
Twitter: https://lnkd.in/g7_5n3d9
Buy the Book: https://www.baytelhekma.com/books/brmg-shbk-t-srv6-bd-y-aasr-gdyd-lshbk-t-ip-lgz-l-ol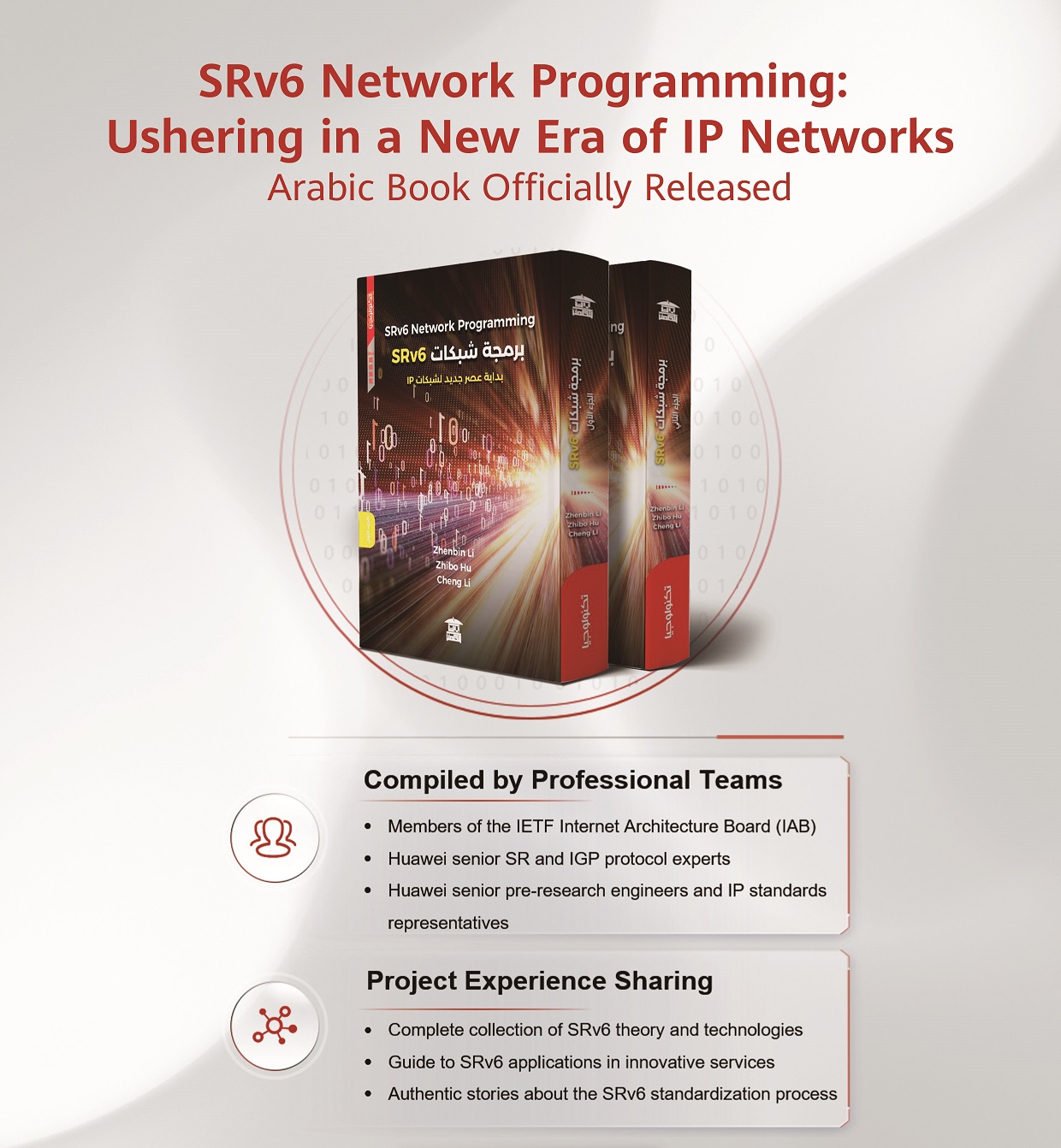 2. English version
Our book, SRv6 Network Programming: Ushering in a New Era of IP Networks, is published. The book introduces SRv6 basics, SRv6 OSPF/ISIS, SRv6 TE/Policy, SRv6 VPN, SRv6 Network Migration, SRv6 Network Design and Deployment. The book also introduces SRv6 OAM/IFIT (In-situ Flow Information Telemetry), SRv6 for 5G (including Network Slicing, DetNet and SRv6 for Mobile Core), SRv6 for Cloud (including SRv6 for Telco Cloud, SRv6 SFC and SDWAN) and SRv6 Multicast/BIERv6. Finally the book introduces the progress of SRv6 industry and the future technologies including SRv6 Compression and APN6 (Application-aware IPv6 Networking). In the book I wrote some SRv6 Design Stories and looked back in the history of SRv6 innovation and standardization which I hope to be helpful to understand SRv6 technologies.
Thanks for the great team work that we can finish the book in time. Wish it would be able to promote the development of SRv6 Technologies.
The link for the pre-order:
https://www.routledge.com/SRv6-Network-Programming-Ushering-in-a-New-Era-of-IP-Networks/Li-Hu-Li/p/book/9781032016245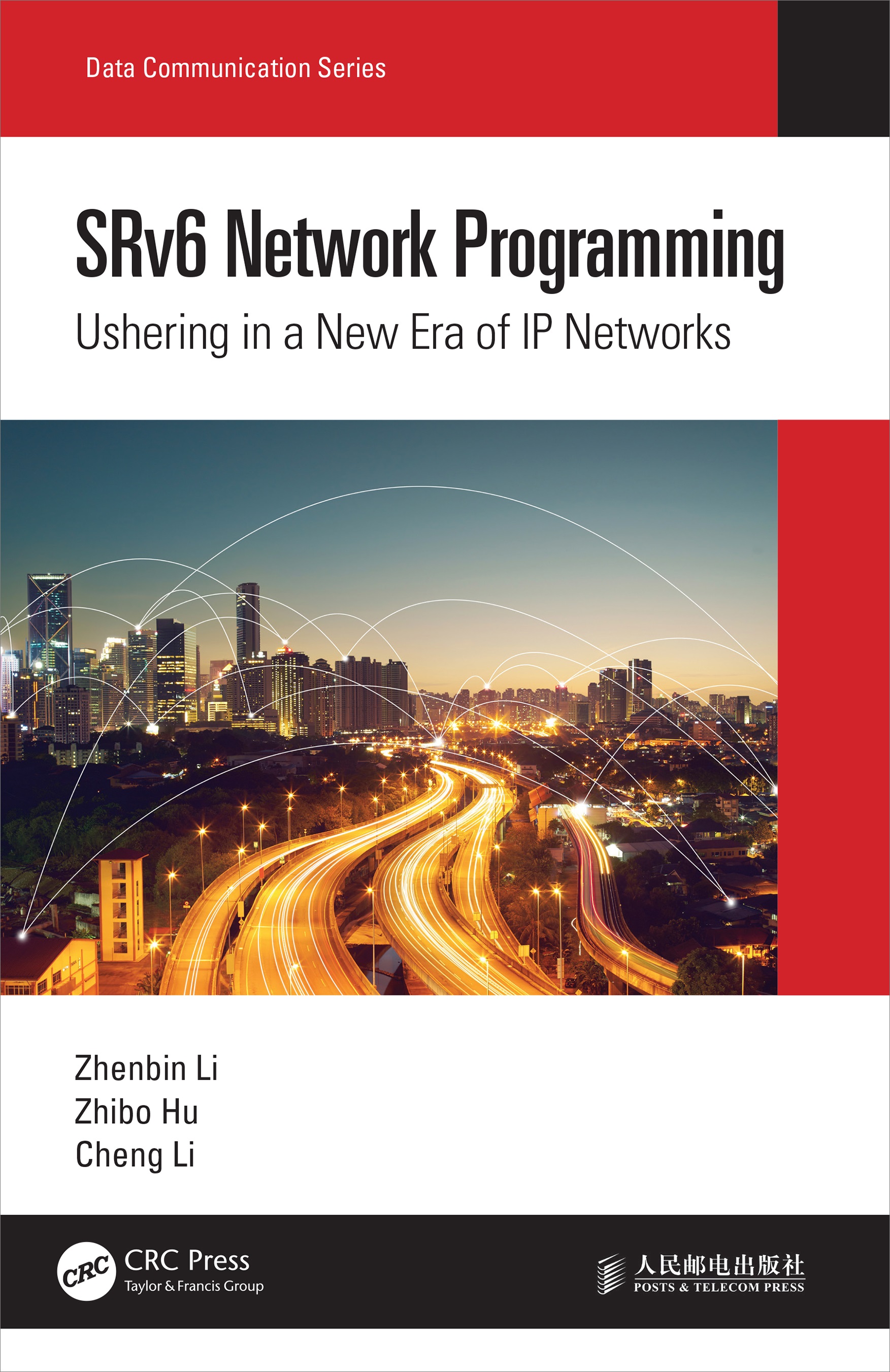 3. Chinese version
国之重器出版工程,华为数据通信系列图书,华为工程师深度解读下一代IP承载核心技术:Segment Routing over IPv6,提供网络极简方案,助力5G新基建
内容介绍
本书以IP网络发展过程中面临的挑战为切入点,详细介绍了SRv6技术的产生背景、设计思路与实现过程,以及SRv6在传统业务与新兴业务中的应用。本书以IP技术的发展历史开篇,重点阐述了MPLS和IPv6在网络发展过程中遇到的问题,帮助读者了解SRv6技术带来的变革以及承载的历史使命。本书还详细阐述了SRv6网络编程的原理,包括SRv6的报文头设计与报文转发过程、IGP/BGP/PCEP等针对SRv6的协议扩展、SRv6如何支持现有的TE/VPN/可靠性需求等;SRv6网络部署,包括现网到SRv6网络的演进路线、SRv6网络的部署过程与运维技术、SRv6支持新兴的5G和云业务;SRv6组播BIERv6技术等。最后,本书对于SRv6的产业现状与未来发展进行了总结与展望。
本书是华为公司SRv6专家团队集体研究的成果荟萃,代表SRv6的前沿技术发展方向。本书内容丰富、框架清晰、实用性强,适合网络规划工程师、网络技术支持工程师、网络管理员以及想了解前沿IP网络技术的读者阅读,也适合科研机构、高等院校通信网络相关专业的研究人员参考。
购买链接:https://item.jd.com/12948440.html